Basic goals
Abstract
These tutorials are dedicated to technicians and chemists responsible for method development, analytical chemists, laboratory supervisors and scientists in the biochemical, pharmaceutical, clinical and environmental setting but also in other fields. Once completed, this Topic Circle will cover instrumentation, operational procedures and practical guidelines for integration of solid-phase extraction (SPE) into LC-systems coupled to tandem mass spectrometry. A focus will also be the principles and application of multidimensional SPE. Properties and performance of tailor-made SPE packing materials (e.g. restricted access materials, RAM, molecularly imprinted polymers, MIP, mixed-mode materials such as Oasis, etc.) as well as high throughput and miniaturization of SPE-LC will be discussed in detail. Besides direct injection and on-line SPE of urine and plasma samples, the direct injection and in-line processing of whole blood will be addressed. A general introduction to the understanding, monitoring and elimination of ion suppression / matrix effects in bioanalytical LC-MS/MS will be given. Finally, a broad spectrum of applications in the fields of therapeutic drug monitoring, biological monitoring, environmental – and clinical-chemical analysis will be presented.

In this first chapter, we will explain sample preparation, clean-up and processing of native biofluids for LC-MS analysis can be done in various modes: manual (off-line by a person), robotic (at-line by a robot), integrated (on-line, coupled in a system), and integral (in-line, embedded in the system).
Level
Basic
Clean-up of biofluids for LC-MS/MS analysis is meant to
Deplete interfering constituents of sample matrix:
High molecular weight components (HMW) e.g. proteins, nucleic acids
Low molecular weight components (LMW) e.g. phospholipids
Extract and/or enrich target analyte(s).
The next paragraphs show the composition of urine and blood samples.
Urine components
Composition of Human Urine: Ingredients ~ 50 g dry weight/L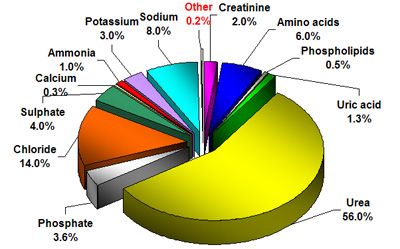 Composition of Human Urine: "Other Ingredients" ~ 0.1 g dry weight/L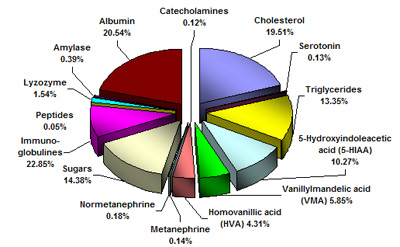 Components of whole blood
Blood is composed of plasma and blood cells: Erythrocytes, thrombosytes and leukocytes: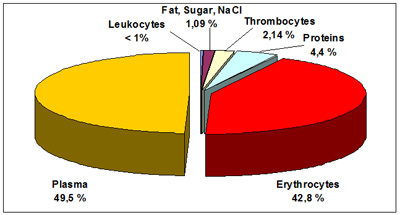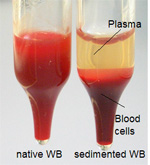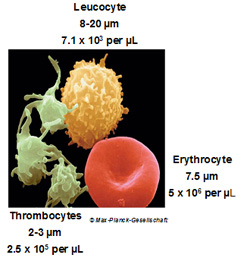 Detailed composition of blood plasma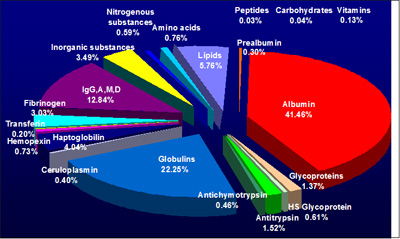 Hematocrit (Hct) :  volume fraction of erythrocytes
Processing blood
The native fluids have a very complex matrix. Therefore they must be prepared before they can be analyzed. Processing blood to prepare it for LC-MS/MS analysis can be performed in many different ways:
Manual (off-line)
Robotic (at-line),
Integrated
In-line
The illustrations show the various options as a part of the total process:
Processing of Whole Blood (off-line or robotic). Click to enlarge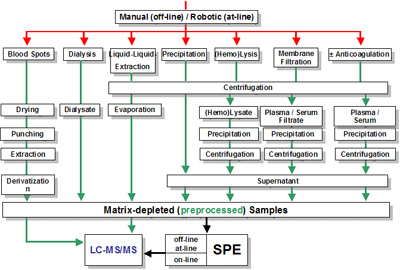 LC-integrated clean-up of secondary specimens (Yellow line). Click to enlarge.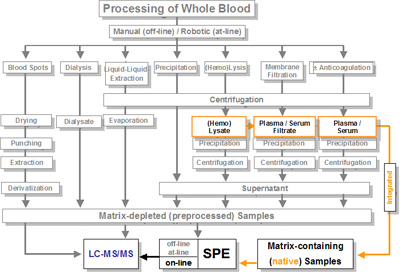 In-line processing of Whole Blood (Red line). Click to enlarge.