On-line SPE-LC-MS/MS
Level
Basic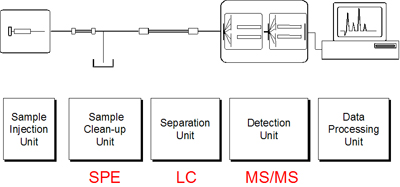 Hyphenation of LC and MS
Why Hyphenation of LC and MS?
MS is not only an attractive detection method but a powerfull separation technique
MS relies on a different physical property of the analyte to effect separation, i.e. on the mass-to-charge ratio (m/z) of ions derived from the target analyte(s)
MS is orthogonal to LC

Coupling of LC with MS results in a multidimensional separation / detection system

LC-MS has a very high separation power (peak capacity)
LC-MS Clean-up of Biofluids:  Why ?
The question is: Can we just dilute and shoot? So, is there any need for sample clean-up ? ! The answer is definitely: yes we need to clean up!
Fractionate - Switch - Separate
SPE - LC is an attractive combination.
LC-System
Relatively low separation power of conventional analytical columns
Interferences by LMW matrix components
Mobile phases with acidic pH and relatively high amount of organic modifier

Incompatible with biofluids
Precipitation or unspecific adsorption of proteins
Irreversible deterioration of separation column

MS compatible buffers restrict pH range for separation to pH 3 – 6 (ESI)
MS-Detector
Ionisation of target analyte(s) can be supressed or enhanced by low molecular weight (LMW) and/or high molecular weight (HMW) matrix components
irreproducible signal(s)
LMW and HMW matrix components not beeing removed or fully separated can cause: 

high baseline noise 
worse signal to noise ratio (reduced sensitivity)
contamination of MS-source

Sample or buffer salts not easily volatilised contaminate MS-source causing a loss in sensitivity
Ion Suppression
Understanding and eliminating ion suppression effects is essential for LC-MS analysis of complex biofluids.
In mass spectrometry
Ion suppression is the result of sample components that diminish the ionization of or compete in the ionization process with the analyte(s) of interest 
Also components of the sample that do not appear in the mass spectrum can cause ion suppression
In biological fluids, natural variation in endogenous compound concentrations from one sample to another can cause varying levels of ion suppression
This variation in turn contributes to unacceptable variability in the signal response for the target analyte
Ion suppression in bioanalytical MS
Ion suppression phenomena ("matrix effects") are directly related to
unselective sample clean-up and / or
insufficient / inappropiate chromatographic separation
Monitoring Ion Suppression (Matrix Effects)  
Postcolumn Infusion Experiment  
1. Infuse a dilute solution of the analyte at a constant rate into the  effluent flowing from the LC system to the mass spectrometer.
2. After obtaining a steady baseline, inject a blank sample extract into the LC system Any eluted material that suppresses ionization in the MS will cause a drop in the baseline of the "Infusion Chromatogram"
Sample clean up methods
Infusion Chromatograms with matrix effects: examples of different sample clean-up methods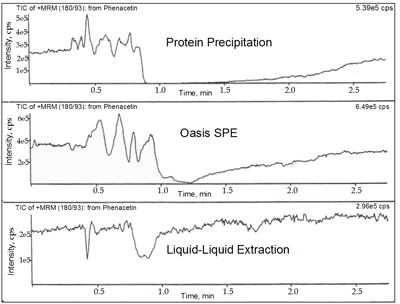 Figure kindly provided by Dr. Richard King, Merck and Co., Inc., Drug Metabolism; West Point, PA, USA Matrix: Human plasma; Analyte: Phenacetin; Mode: ESI-MS/MS
Infusion Chromatograms: Plasma samples originating from different species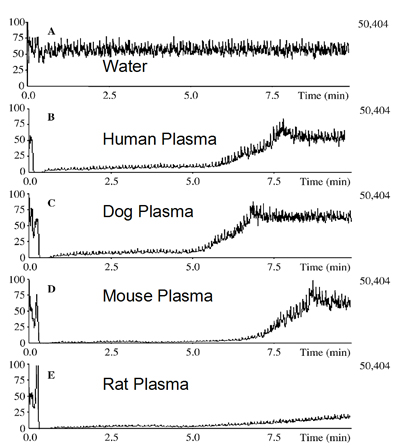 Polson C. et al., J. Chromatogr. B 785 (2003) 263-275Precipitating agent:  Acetonitrile; Mobile phase :  MeOH / H2O (50/50; v/v); Sample:  Plasma/Precipitant (33/66; v/v)

Infusion Chromatograms: Effect of Protein Precipitating Agents on Ion Suppression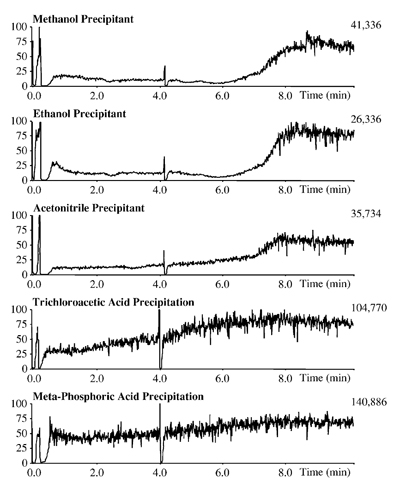 Polson C. et al., J. Chromatogr. B 785 (2003) 263-275Mobile phase: MeOH/H2O (50/50; v/v); Sample:  human plasma / precipitant (33/66; v/v)